A Message From Rosie

Rosie O'Donnell has quit her job as moderator of The View after a vicious war of words with Elizabeth Hasselbeck hit the headlines last week. She clashed with her co-host on last Wednesday's program after the pair fell out over their political views, and she has not returned to the daytime show since.

She told fans she didn't know when she'd be back in a posting on her blog after the on-air fight, but now the show's producers have confirmed O'Donnell has quit.
O'Donnell's remarks became so inflammatory that ABC actually bleeped her live on the air. She lost any remaining shreds of credibility the moment she showed an utter lack of respect for the opinions of her fellow panelists, live audience, and viewers at home.

On her blog O'Donnell said, "I have said all I needed," and posted a scrapbook tribute to her co-hosts from The View as a touching swan song video.

Rosie O'Donnell says she will likely never speak to her former co-host Elisabeth Hasselbeck again, as you can see here, after an on-air tiff last week that led to O'Donnell's early departure from the show.
And just because she is no longer on "The View", don't think she's just going away. She's announced that she's going on a rock tour, joining her friend Cyndi Lauper on a series of dates beginning soon. They're said to have been friends for a while, and Rosie has even considered producing Cyndi's show for Broadway.


But in out world there are sometimes coincidences that are too strange not to have deeper meaning. News reports emerged from Alabama last week stating that an 11-year-old boy had killed a 1,051-pound hog with a handgun.

While Rosie's star is plummeting, 11-year-old Jamison Stone is reveling in his instant stardom and the attention over his pig, which already has a Web site put up by his father — www.monsterpig.com — that is generating a bit Internet buzz.

And even more coincidental, the handgun that Jamison used is rumored to have been purchased a few years back at a local Kmart, and Rosie O'Donnell used to be their TV spokesperson. And it's probably untrue that the firearm was a Rosie O'Donnell Signature Edition™ Smith & Wesson.

The hog's head is now being mounted on an extra-large foam form. Jamison's father Mike denied that they were going to name the stuffed after the former host of The View.

Jamison, meanwhile, has been offered a small part in "The Legend of Hogzilla," a small-time horror flick. The movie is holding casting calls, but has not announced who will be chosen for the role of Hogzilla.

But back to Rosie O'Donnell.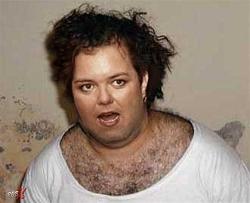 She can hang lose, just relax for awhile, and won't even have to brush her hair in the morning.

No, I for one won't miss Rosie's self-pitying, victimhood-claiming, manipulative, no-sense arguing at all. Maybe she can go back to advertising for Kmart.
Rosie O'Donnell, The View, Elizabeth Hasselbeck, tantrum, Lexidiem, JargonTalk, on-air fight, Cyndi Lauper, Jamison Stone, Hogzilla
Technorati tags: Rosie O'Donnell, The View, Elizabeth Hasselbeck, tantrum, Lexidiem, JargonTalk, on-air fight, Cyndi Lauper, Jamison Stone, Hogzilla